Microsoft launched the new lifecycle services for Microsoft Dynamics AX 2012. Microsoft Dynamics Lifecycle Services (LCS) is designed to manage and optimize customer implementations, upgrades and maintenance activities in a collaborative workspace environment. In these cloud-based workspace customers and partners can work together to improve the lifecycle of the Microsoft Dynamics AX environment during the design, deployment, operational maintenance and future upgrades. This blog will give an overview of the available services and collects released information.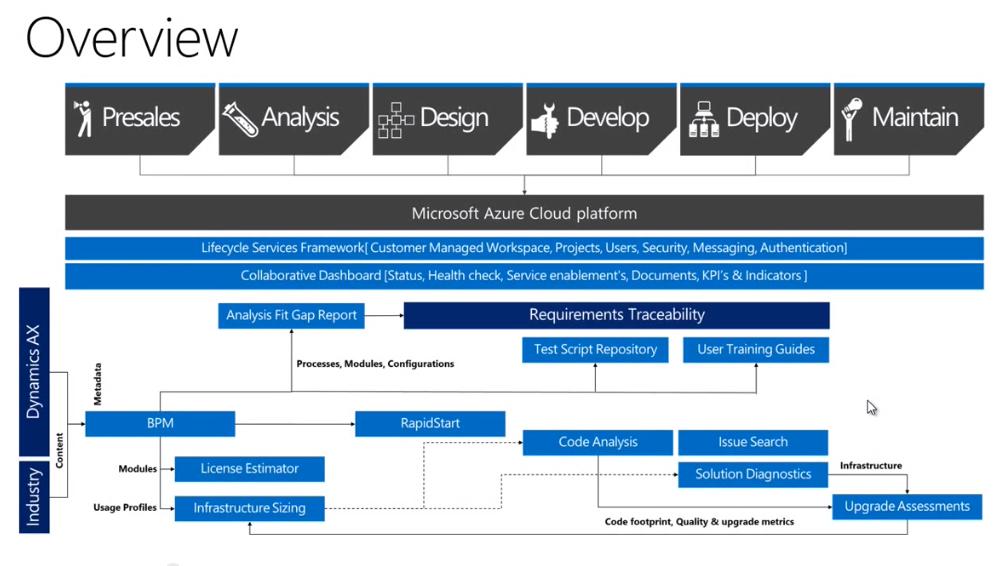 Watch this video for further explanation:
In this first release, the following services are provided to the industries Public Sector, Retail, Manufacturing, Distribution, Professional Services and other:
Project workspace
Business process modeler
Usage profiler (beta)
License estimator
Customization analysis
Upgrade analysis
Issue search
System diagnostic services
Collaborative Project workspace
Within this workspace a new project can be create from several project types, like:
Implementation, Upgrade and Maintenance types for Customers
Pre-Sales and Learning types for Partners
In general these workspace can be used to define a project team, create a project plan, manage project documents, use and modify checklists, model business processes, track issues, analyze customizations. Furthermore system diagnostic service tools are available to help administrators monitoring and understanding the health of one or more Microsoft Dynamics AX environments.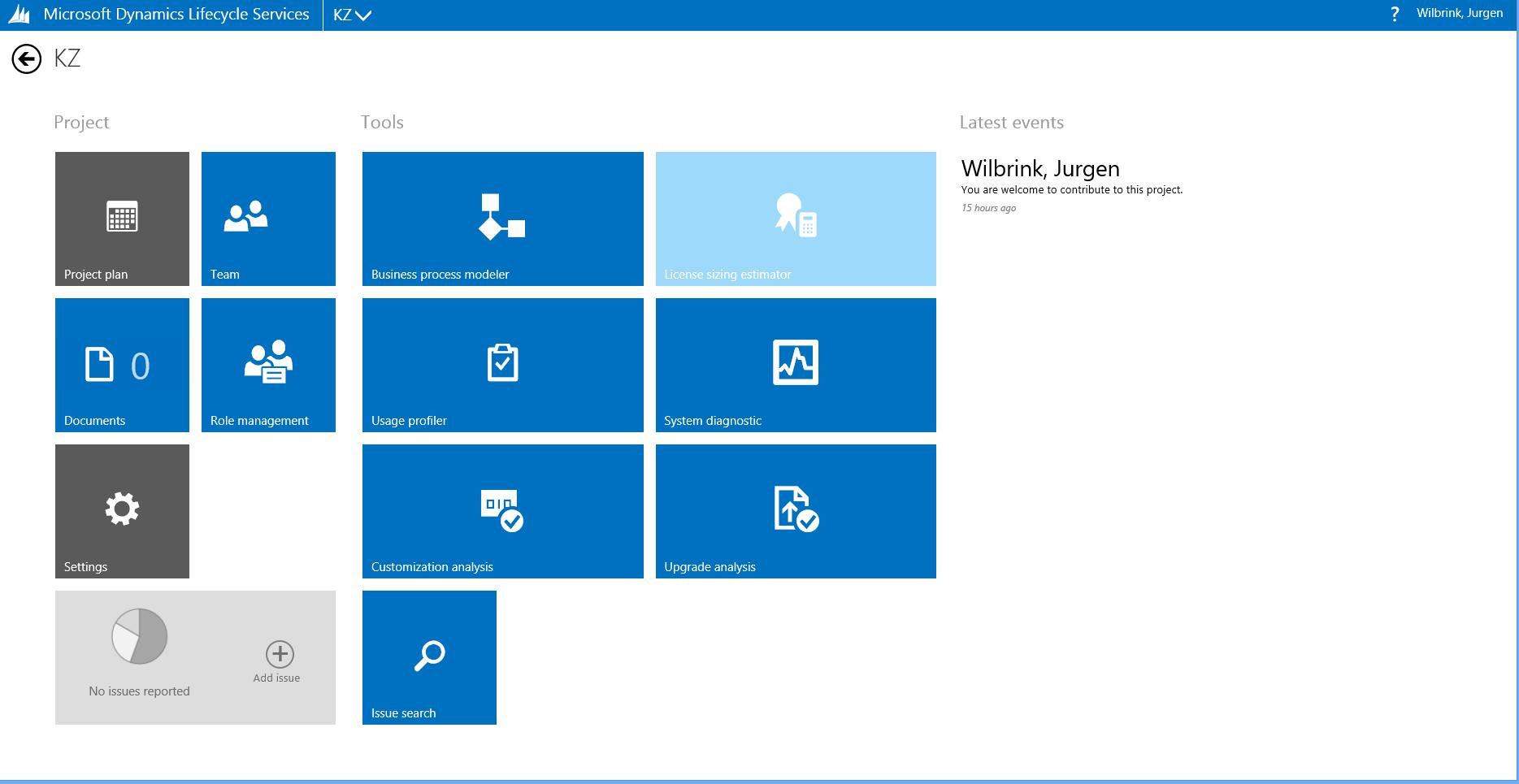 Business process modeler
The Business process modeler lets project teams create, view and modify standard business process hierarchies and flow charts inside Microsoft Dynamics AX. It enables standardization of process flows, alignment of Microsoft Dynamics AX processes with industry standard processes as described by the American Productivity & Quality Center (APQC), and enables project teams to identify fit and gaps between their needs and the functionality that Microsoft Dynamics AX provides by default. Business processes can be adapted from earlier projects, a corporate library or the global Microsoft library for the mentioned industries.
The business modeler interacts with:
Microsoft Visual Studio Team Foundation Server (TFS) – generate a consolidated list of gaps and import them manually into TFS as work items that include a reference to the process flow.
Microsoft Word – generate documentation for business processes.
Microsoft Visio – export business process maps to Visio files.
In Microsoft Dynamics Lifecycle Services, project teams can record information about custom business processes by using an updated version of Task recorder (KB2863182). Each flowchart includes then the detailed steps and a video that were created by using the Task recorder.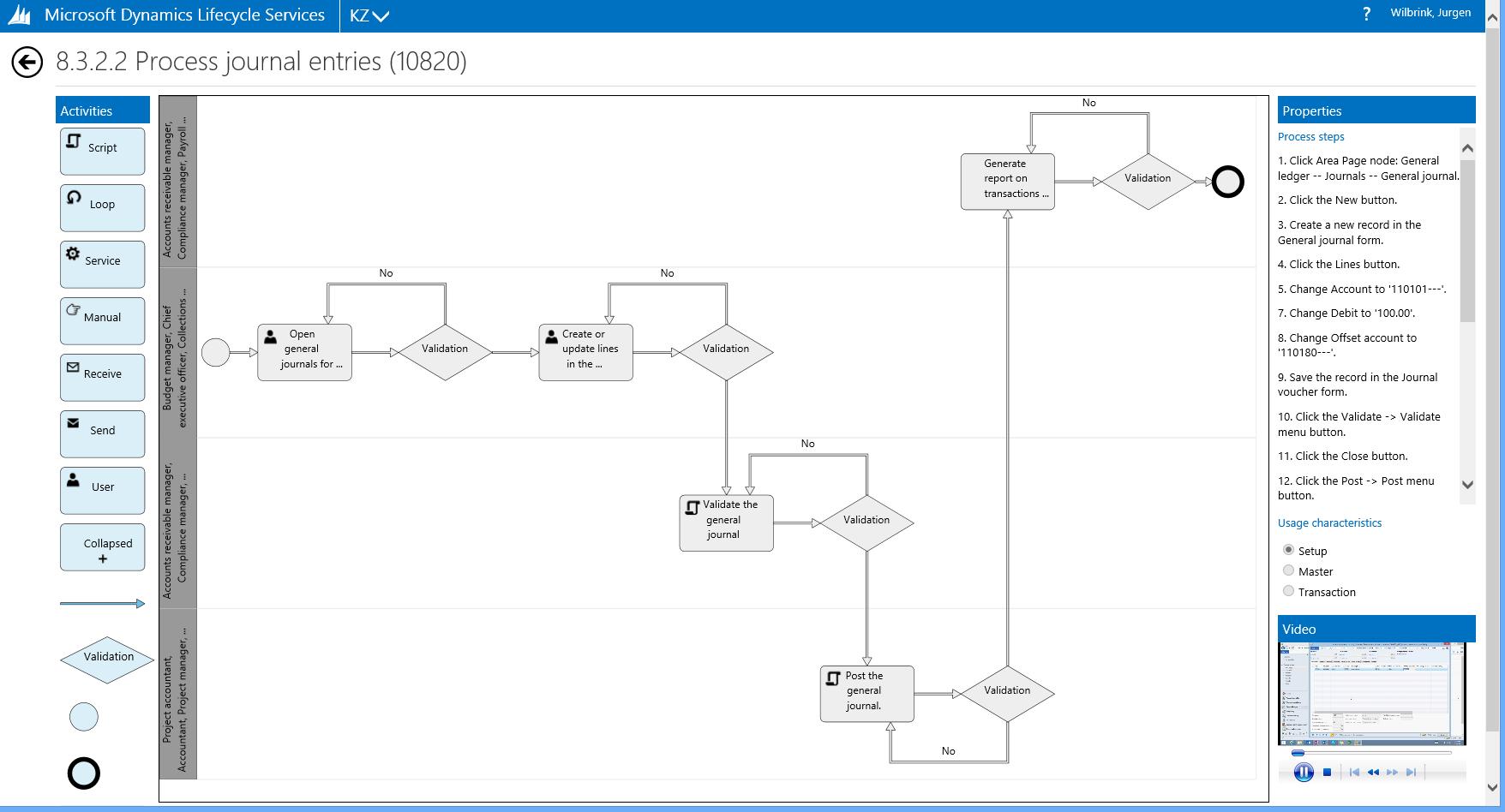 Watch this video for further explanation:
Watch this white paper for further explanation of the task recorder:
http://www.microsoft.com/en-us/download/details.aspx?id=39353
Issue search
Issue search enables project members to find existing solutions and workarounds for known Microsoft Dynamics AX issues. You can see which issues have been fixed, which have been resolved as "won't fix" and which issues a fix is not yet available for. Developers can also use the Issue search to subscribe to email notifications for hotfixes in particular areas of Microsoft Dynamics AX.
Within the search options information can be found easily about resolved issues, workarounds and issues which are known, but not yet solved. Furthermore filters are available to view the issues from the used Dynamics AX 2012 version.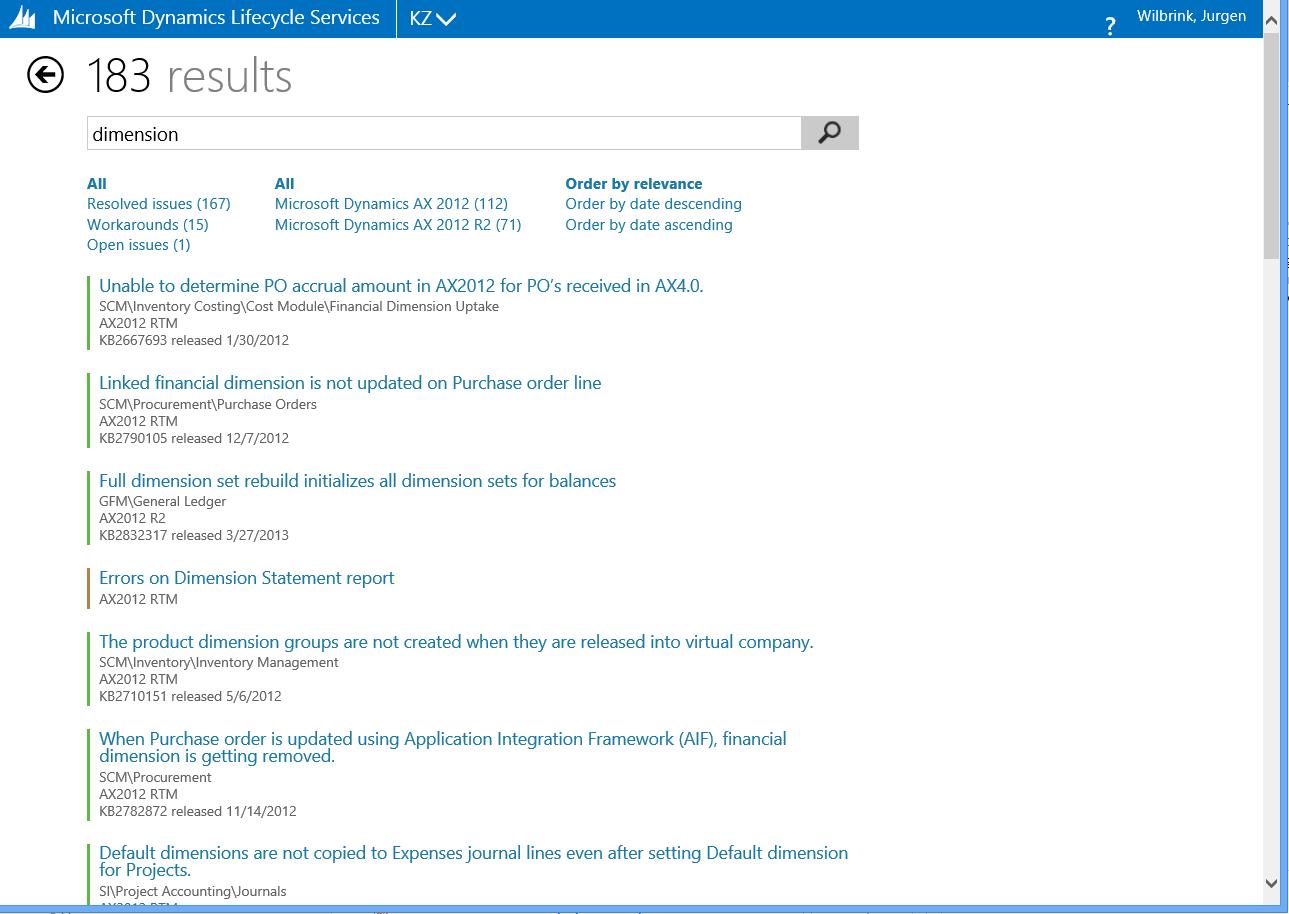 When an issues is selected an explanation is given about the issue, a description of the changed software with reference to the affected objects. Also the hotfix can be downloaded and the code changes can be reviewed in more detail (copy and paste could be easier then downloading a fix).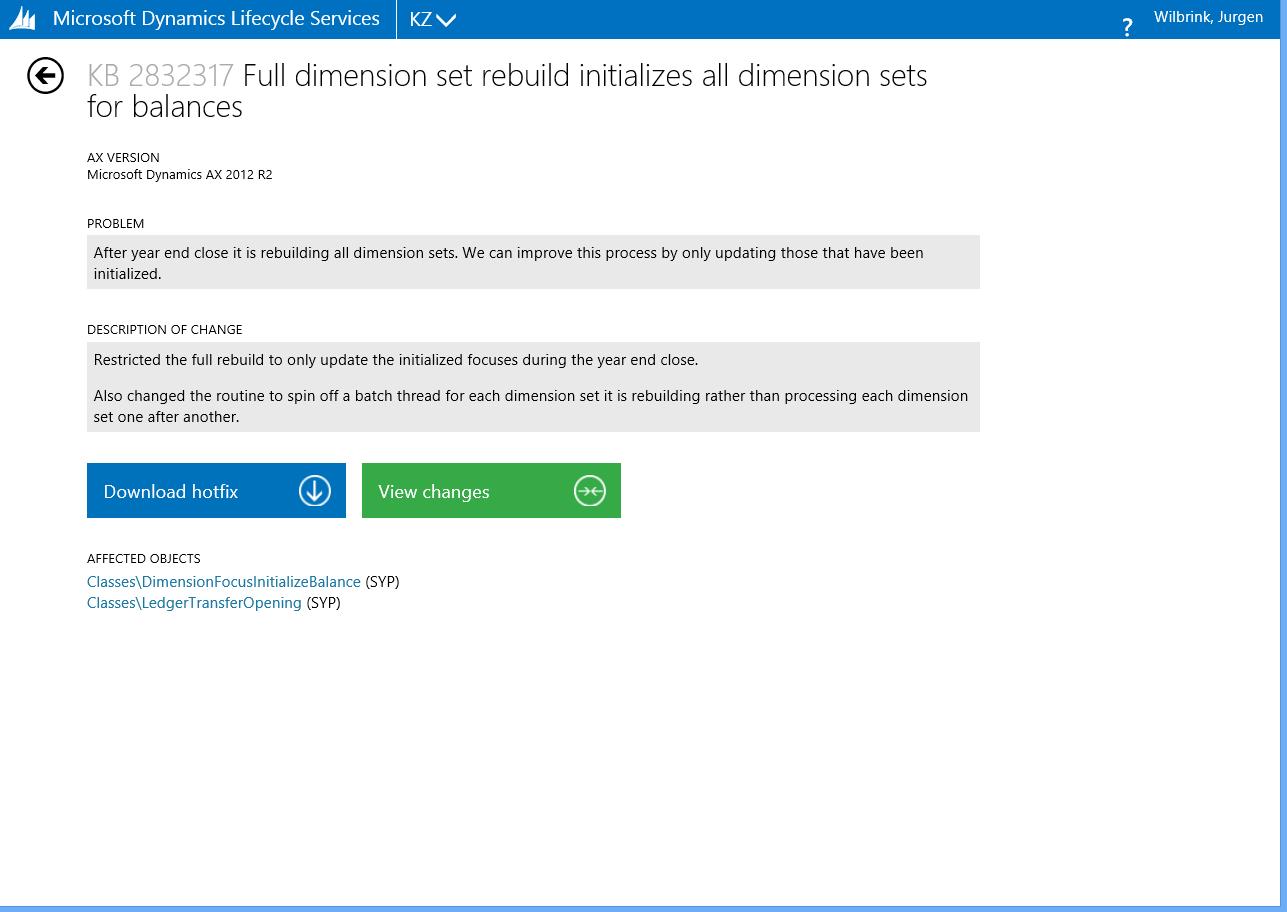 Watch this video for further explanation:
Usage profiler (beta)
Usage profiler (beta) is a data gathering tool that assists team members in describing their projected or current usage of a Microsoft Dynamics AX 2012 implementation. The usage profile generated can then be used for a wide variety of purposes, such as hardware sizing and support.
The Usage profiler (beta) provides you with the following information:
A detailed summary of an organization's modeled usage characteristics, including system configuration, transaction volumes, scheduling information, ISV products, customizations, integrations and reports.
A graphic representation of the organization's peak load profile. This graph in based on a combination of the concurrent user load schedules and the batch schedules. From this graph, the peak load point can be established. You can either reschedule tasks in Microsoft Dynamics AX to mitigate peak load, or accommodate peak load in your hardware sizing estimation.
Information from the usage profile is also used in the project summary report that project stakeholders can use to better understand the plans for an implementation.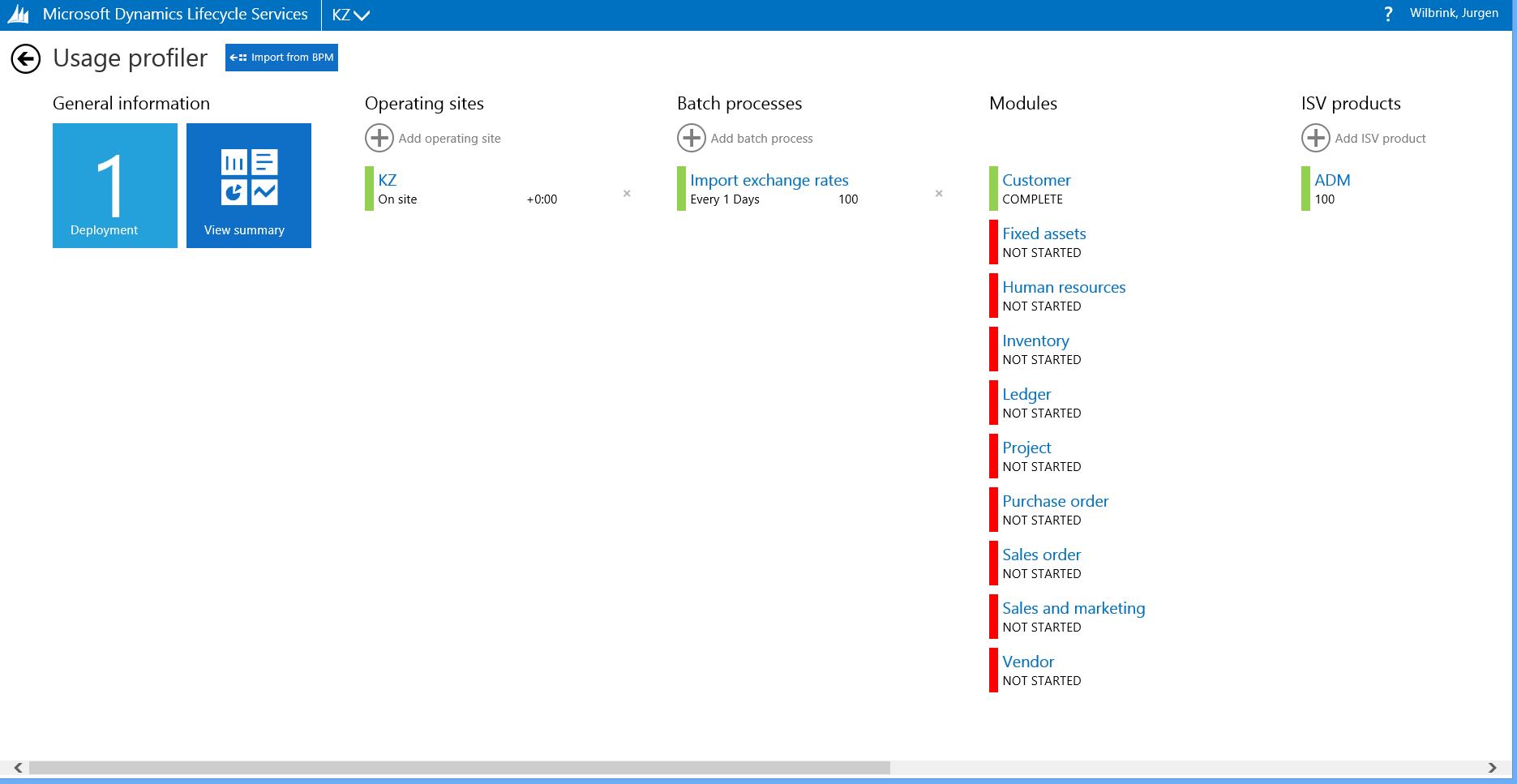 Watch this video for further explanation:
License estimator
The License estimator helps project teams estimating the number of licenses required for Microsoft Dynamics AX 2012. It provides a shared workspace that enables modeling default and customized positions (Microsoft Dynamics AX roles), and then automatically calculate required Client Access Licenses (CALs). The License estimator is available to partners in Pre-sales projects, and to customers in implementation and upgrade projects.
License estimator provides information that you can use before a customer purchases Microsoft Dynamics AX, before expanding your existing Microsoft Dynamics AX implementation, or before upgrading to a newer version of Microsoft Dynamics AX.
You can define roles and their associated duties in several ways. The application provides the team members with the 93 roles that are included in Microsoft Dynamics AX 2012. Any of these roles can be used to define the positions in the customer organization. If a predefined role does not meet the organization's needs, duties can be added or remove duties to model a custom position. Also a new position can be modelled from the list of available duties. The positions and created duties can not be exported to Dynamics AX 2012.
After the positions in the organization are designed, a report can be viewed that summarizes the information entered. This report automatically estimates the volume and types of licenses that the organization requires. Estimates are based on the CAL levels that are required to perform the duties that are included in each role and the number of people in each role. The license estimation is also based on the way users access Microsoft Dynamics AX, either as named users or through a licensed device.
Watch this video for further explanation:
Customization analysis services
In Microsoft Dynamics Lifecycle Services, Customization analysis offers Microsoft Dynamics AX 2012 customers an automated tool that validates the customer's model files against Microsoft Dynamics AX best-practice rules for tables, classes, forms, and enums. It then generates reports, including a summary report display on the site, a detailed Microsoft Excel report that lists all issues, and a developer report that the developer can load in the Microsoft Dynamics AX development environment.
Watch this video for further explanation:
Upgrade analysis
Upgrade analysis helps the project team to plan their upgrade to Microsoft Dynamics AX 2012 by analyzing code artifacts (AOD files) from Microsoft Dynamics AX 4.0 or Microsoft Dynamics AX 2009. Microsoft also provides a Rapid Data Collector (RDC) tool that analyzes existing environment information to helps estimate the scale of the upgrade project.
Watch this video for further explanation:
System diagnostic services
In Microsoft Dynamics Lifecycle Services, the System diagnostic service helps administrators monitor and understand the health of one or more Microsoft Dynamics AX environments. It is a cloud-based tool with a locally-installed component that can be configured to perform the following tasks:
Discover on-premise Microsoft Dynamics AX environments (database and AOS instances).
Collect data from discovered environments.
Run rules on the collected data.
Report rule violations on a dashboard.
Provide reports.
Data is collected by using jobs that run on predefined schedules.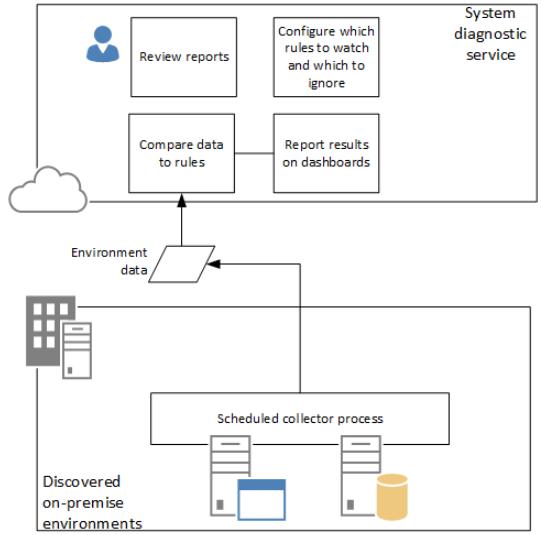 Watch this video for further explanation:
This blog just summarized the possibilities of the new released Lifecycle services for Dynamics AX. The lifecycle services can be started from  https://lifecycleservices.dynamics.com or  https://lcs.dynamics.com using your partner source or customer source credentials.