When trying the Point-of-Sale (POS) scenario's from Microsoft I noticed that multiple stores are created in Dynamics AX 2012 R2 VM and some of these stores are connected to a stand-alone Dynamic AX 2012 POS. The relations are created with the stores:
Seattle, POS register 1 and 2
New York, POS register 1
Boston, POS register 1
When user "Emma Harris" logs in to the VM, she will find 4 shortcuts available on her desktop.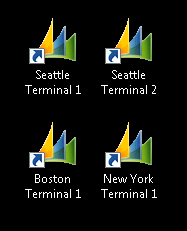 Using these shortcuts will end-up to the login to the specific POS register.
We are using the VM where we setup scenario's to multiple POS registers in multiple stores. In real life the POS is installed on a dedicated desktop, or launched via Citrix or Remote Desktop. This means that each instance has its preconfigured settings available. In this VM Microsoft is using a trick for that. The POS is installed on the C-drive of server AX2012R2A and is started by using its configuration file. Therefore open path: c:\Program Files (x86)\Microsoft Dynamics AX\60\Retail POS. Select the file POS.exe (configuration file) and open this file with edit.

In this folder also a few configuration files are created for Boston-1, NewYork-1, Seattle-1 and Seattle-2. These files are copies from the master file and only the storeId, terminalId and DataareaId are different.

Furthermore you can notice that there are several windows batch files created.

These batch files are copying the content of the separate configuration files to the Pos.exe configuration file and start the POS register immediately.

So it is no surprise that the shortcuts on the desktop of "Emma Harris" are shortcuts to these windows batch files and each time she starts the POS terminal the configuration file is overwritten with the settings of the specific terminal. Be aware that if you are not login in with user "Emma Harris" the POS can be started from the start menu and this shortcut will use the latest selected configuration of the POS selected by one of its users.
Best way to solve this for other users is to copy the desktop shortcuts from user Emma to your personal desktop. If you want to add multiple store's to the desktop its easily to create copies of the configuration file and the windows batch jobs. Be noticed that the distribution schedule in Dynamics AX 2012 R2 can be used to the locations Seattle, NewYork and Boston!